CRANBORNE AUDIO 500R8
USB audio interface, high-performance converter, monitor controller, summing mixer, 500 series chassis
Експресна поръчка без регистрация
500R8 is home to 8 of your favourite 500 series modules. It's also a 28in/30out USB audio interface, monitor controller, and discrete analogue summing mixer.
Analogue Character
---
Configure 500R8 to suit your desired analogue flavour. Fill it full of vintage-style 500 series preamps when you're recording drums, clean and pristine preamps when you're recording strings, or EQ/Compressor/saturation 500 series modules when it's time for mixing.
...Meets Digital Precision
---
Connect 500R8 directly to your PC/Mac and capture every last nuance of your analogue sources with reference-class AD/DA conversion and superior internal clocking. Effortlessly pass audio between analogue and digital worlds without digital artefacts that colour and degrade your recordings.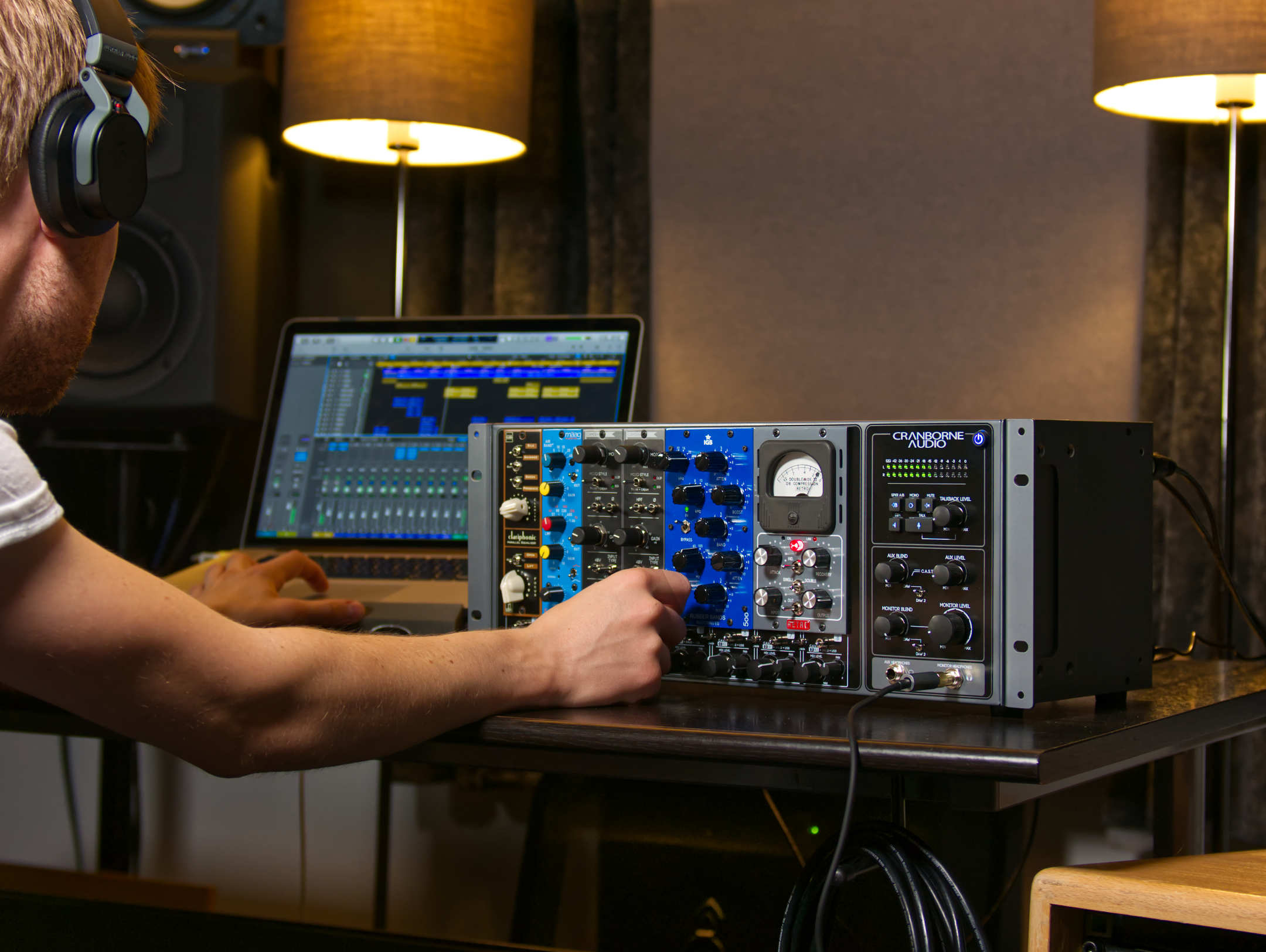 500R8 has everything you need to build your dream analogue/digital hybrid studio. Each element has been carefully considered and designed to give you best of everything combined into a package that is intuitive (and fun) to use.
USB Audio Interface
Connect directly to your PC/mac via USB and utilise 500R8's built-in 28-in/30-out USB audio interface for recording and playback directly to/from your chosen DAW.
Monitor Controller
Switch between two sets of speakers, toggle Mono sum, Mute, Dim, and Talkback facilities whilst monitoring the peak level of your mix with 28-segments of LED detail by using the built-in, high-headroom monitor controller.
Zero Latency Artist Mixer
Monitor live sources in the analogue domain with zero latency by using dedicated mix level and pan controls per-channel combined with our seriously high-powered headphone amps.
Discrete Summing Mixer
Elevate your mix with analogue character and sum 8 USB sources through your 500 series modules and into the discrete analogue summing mixer to be summed and recorded back into your DAW as a stereo track.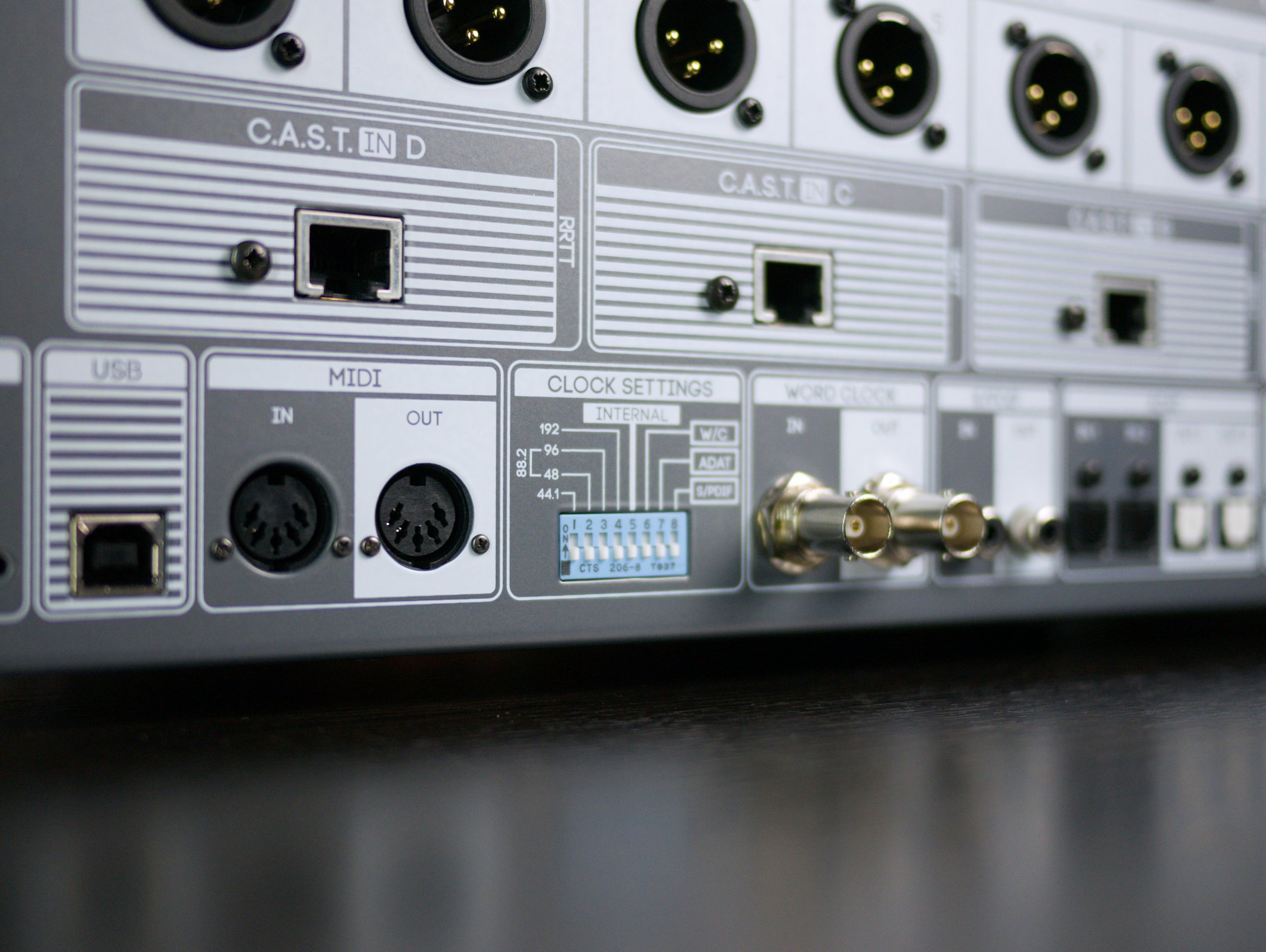 World-Class Conversion & Clocking
To make your 500 series modules shine on your digital recordings, our conversion had to be best-in-class. We squeezed every possible .1dB of performance out of 500R8's converters to ensure that the only thing colouring your recordings are your mic placements, mixing decisions, and choice of 500 series modules.
Dynamic Range:
121dB A-weighted, AES17 method, 20Hz - 20kHz
Frequency Response:
-1dB, 2.2Hz to >80kHz
THD+N:
<0.00032% (-110dB) @ -4dBFS, 20Hz - 40kHz, 1kHz, A-weighted
Clock Jitter:
<0.5 Picoseconds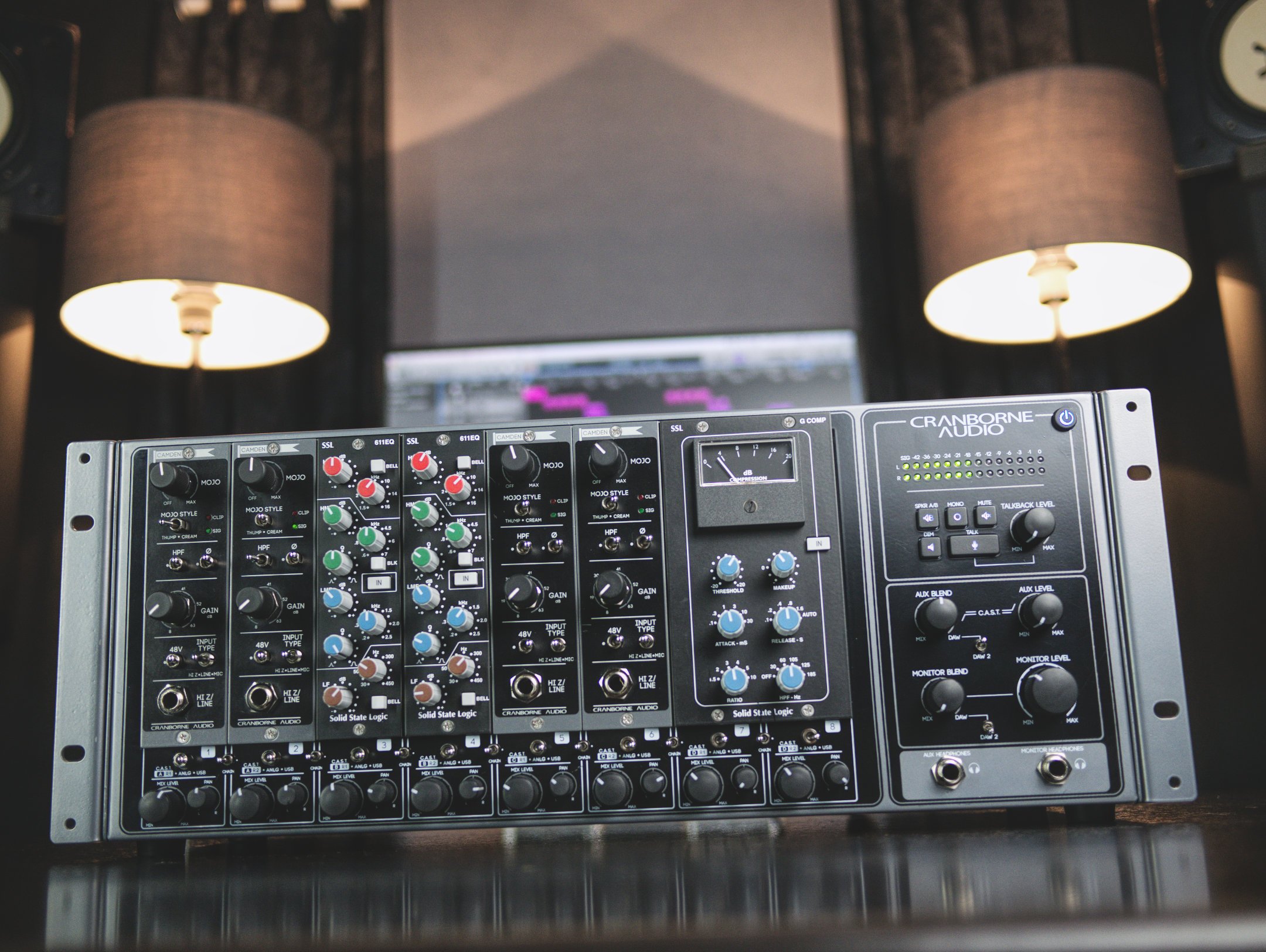 Deep 500 Series Integration
Configurable Front End
Mix and match your 500 series modules to find the best combinations during recording, and mixing to help create your own signature, analogue sound.
Source Select
Re-patch your 500R8 at a flick of a switch. Dedicated source select switches for each 500 series slot adjusts the signal routing to send Analogue, C.A.S.T. or USB sources through each your modules.
Enough I/O For Any Hardware
500R8 to integrates with all of your analogue/digital hardware. Patch in 500R8 with your own converter or integrate your 19" rack gear with dedicated TRS insert jacks per slot.
No Modules? No Problem
Bypass unused 500 series slots using 500R8's dedicated slot-bypass switch and you can use all of the available analogue paths for recording whilst you continue to build your 500 series collection.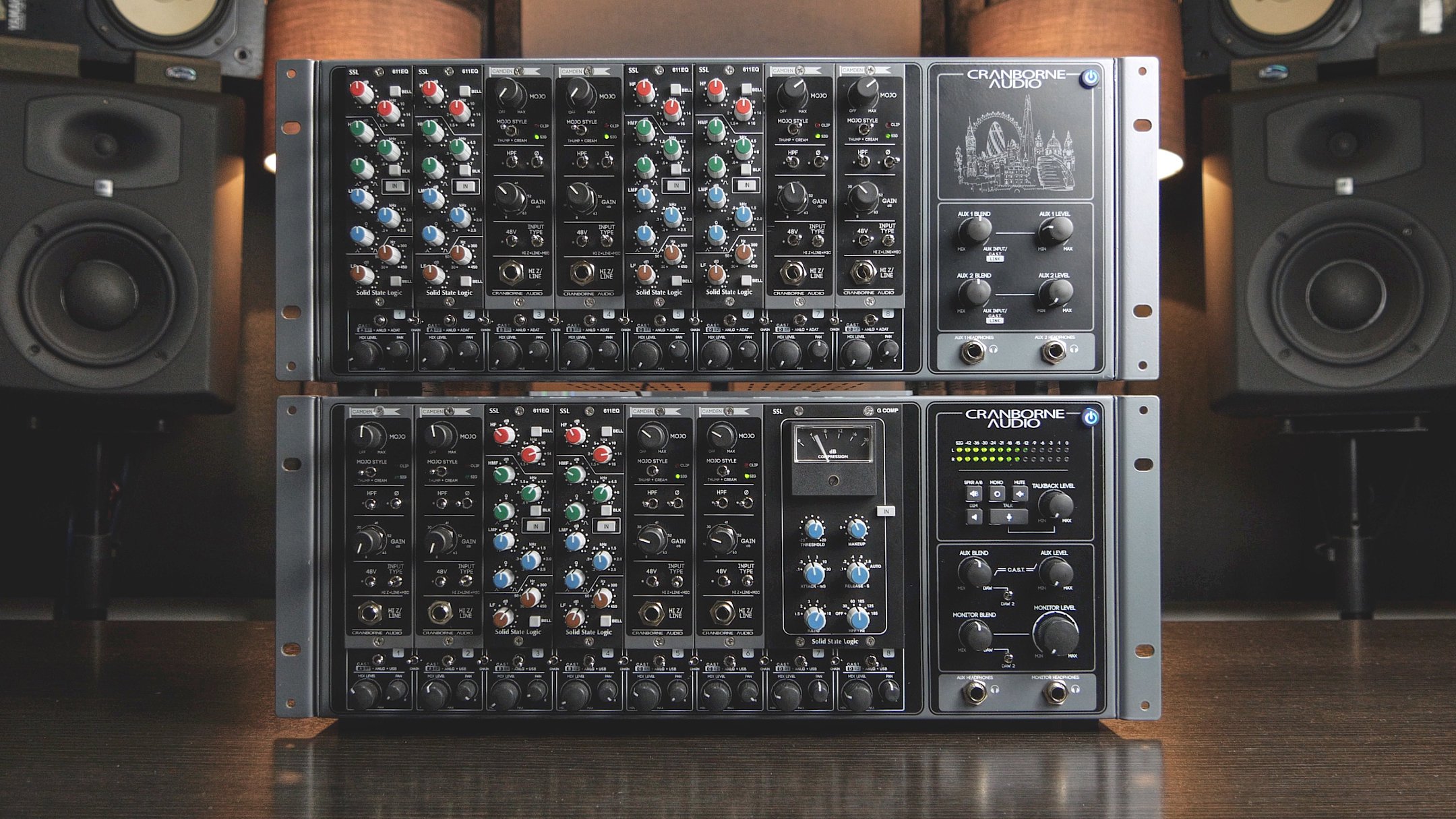 When you've run out of available recording channels on 500R8, our 500ADAT comes to the rescue. Connect 500R8 and 500ADAT together via ADAT and now you have 16 channels of 500 series modules to work with. during recording and mixing. Whilst 500ADAT offers the same performance as 500R8, any 3rd party ADAT expander is also compatible.
More Recording Channels
Record up to 16 channels directly through independent 500 series modules and directly into your DAW for processing.
More Summing Channels
Play back instrument groups/stems into all 16 available 500 series slots for summing using our C.A.S.T. link connector.
Fitted with our C.A.S.T. system, 500R8 is compatible with our N22 and N22H C.A.S.T. breakout boxes that cast-away excess cabling spaghetti and offers a cost-effective, low-maintenance, plug-and-play solution to rewire your studio. C.A.S.T. transports 4 channels of balanced, analogue audio over shielded Cat 5e, Cat 6, and Cat 7 cable directly to the location where it is needed in your studio. Create vocal booths, isolation booth, or run our a microphone to the hallway for ambience, C.A.S.T. is the best way to expand your 500R8 and get the most out of your studio space.
Send/Receive Audio From C.A.S.T.
Simply connect N22 or N22H to 500R8 using shielded Cat 5e, Cat 6, or Cat 7 cable and mics/sources connected to the breakout are patched directly to the slot inputs of 500R8. At the same time, the monitor mix created on 500R8 (including talkback) is sent through the same cable, directly to the outputs of the connected breakout.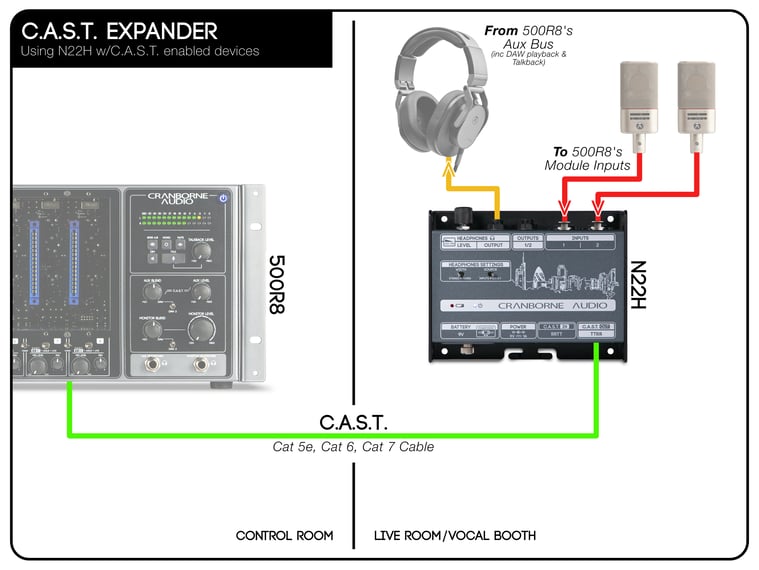 Fully Compatible With Microphones and 48v
If you have preamps installed into 500R8, C.A.S.T. can transport their 48v phantom through the C.A.S.T. connection via Cat 5e, Cat 6, and Cat 7 and directly to condenser/active microphones connected at the end. C.A.S.T. is completely plug-and-play and works at distances up to 100m for maximum flexibility and convenience.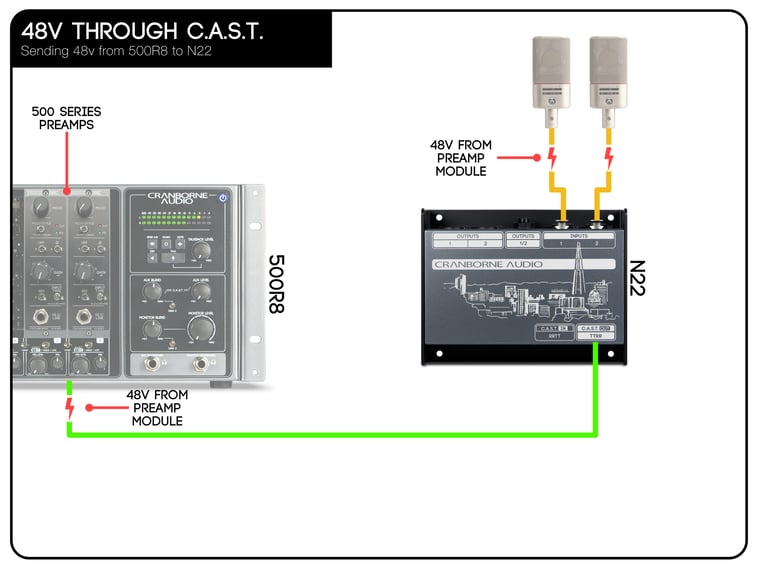 Housed in a 4U, 19" rack mountable steel frame, 500R8 lends it self perfectly to mobile recording setups. We tried to think of everything, even the rack ears support three unique mounting methods. You can recess 500R8 into the rack to protect the front panel controls during travel; you can also take those same rack ears and re-orientate them to become a carry handle.
Home Grown
500R8 is designed and engineered in the UK and every unit that leaves the factory is thoroughly tested to provide years of trouble-free and dependable service.
Built And Designed With Passion
We don't take shortcuts. We don't compromise. We don't accept "good enough." We're just like you. We're musicians. We're audio engineers. 500R8 is a product we're very proud of, and we hope you will be too.